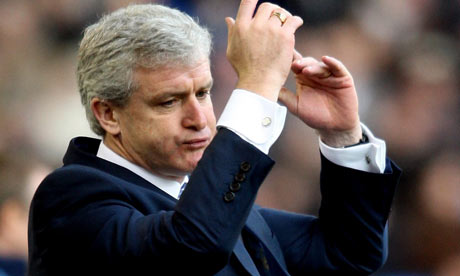 For me I do not think Hughes should have been sacked yet and I think the way in which he has been sacked shows poor professionalism on the part of our owners.
Sacking a man before the team has a game is ridiculous, then to top it off they had planned to announce it shortly after the game.
I also think that the owners have acted prematurely by sacking him, Hughes has not been the greatest manager in the world by any stretch of the imagination but he was going in the right direction. As well as bringing in a host of new players Hughes has totally over hauled the way the club works as a whole, I have been angry at times with Hughes this season and have thought maybe we should sack him but when it happens and you think about it properly it was not the right decision.
His sacking I have to say has a lot to do with our players, they have let him down with their lacklustre performances. A majority of them should feel bad that they have helped to lose a man his job.
Saying that, we are comfortable in the League and the without a doubt the owners have acted on impulse, so they are to blame for this nonsense as well.
We now have to carry on without the man who was in charge of the team with the least losses in the Premier League this season and more importantly than that without the man who led us to our first semi final of a domestic cup for many years.
Will we ever have some continuity? I just don't know, are you happy to see Hughes go?