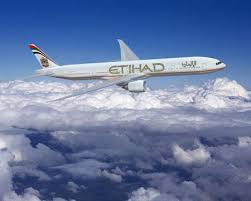 Earlier today I did an
article (click here to read)
that featured what could be our new shirt for the up and coming season. In that article I purposely missed out something rather important, to see if anybody picked up on it.
As suspected people focused more on what the shirt looked like, rather than something that is on the shirt.
The shirt has
Etihad
Airways on it as the sponsor, this is not surprising as they have been touted as being our new sponsor for some time now and it looks likely that they could indeed take over from Thomas Cook.
Etihad
Airways is a big airline that is based in
Abu
Dhabi
, obviously another opportunity for our owners to advertise where they come from. It is being said however that the deal could be lucrative and maybe even shatter previous sponsorship deals, so whats the problem?
Well the quite big problem is that
Etihad
when translated into English, amongst other things means United. Now I don't have a problem if our shirts are ugly, to plain, not plain enough and so on, but having United on the front of our shirts whether it's in a different language or not is surely a no no for most if not all City fans.
I would like to think City would not do such a thing, but it is City so you never know. Like I have said previously I will always wear our clubs shirt no matter what, but surely it is not just me who won't like knowing that they are walking around in their City top that has United sprawled across it.
Can we as City fans see past it?, I am not so sure we could.