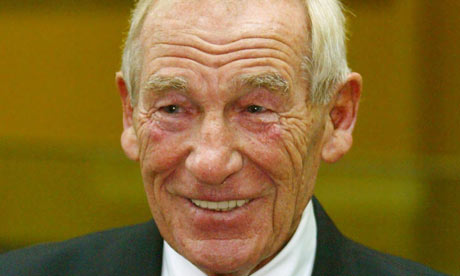 At number four in my top ten viewers is Germany and the player I have chosen for them is Bert
Trautmann
OBE
.
Bernhard Carl
Trautmann
is a true example of a legend.
Bert signed for City in 1949 and played for the blues until 1964.
Bert's life in England started after being captured by an English soldier during the second World War. When Bert was finally allowed to return home he declined and decided to stay on in England where he worked on a farm and played football for St
Helens
Town. After some impressive displays for St
Helens
he attracted the interest of several sides but City won the race for his signature and that's when his legacy began.
When I hear about Bert
Trautmann's
talent it always makes me feel gutted that I didn't get to see him play. Those who did see him play hold him in such high regard and with good reason.
A lot of people, especially the younger generation instantly link Bert's name to the 1956 Cup Final in which he played part of the game with a broken neck, although it was not only this occasion Bert performed heroics for City, week in week out Bert's great displays were earning him World wide acclaim.
Classed by some as the best goalkeeper they have ever seen, Bert
Trautmann's
name will never be forgotten at City or in football.
All my knowledge on Bert is of course researched or things that I have been told, I have given a quick run down on him rather than blatantly steal someone
else's
hard work, I suggest you read his
wikipedia
page because it makes great reading and gives you the full
story
of his extraordinary life.
http://en.wikipedia.org/wiki/Bert_Trautmann